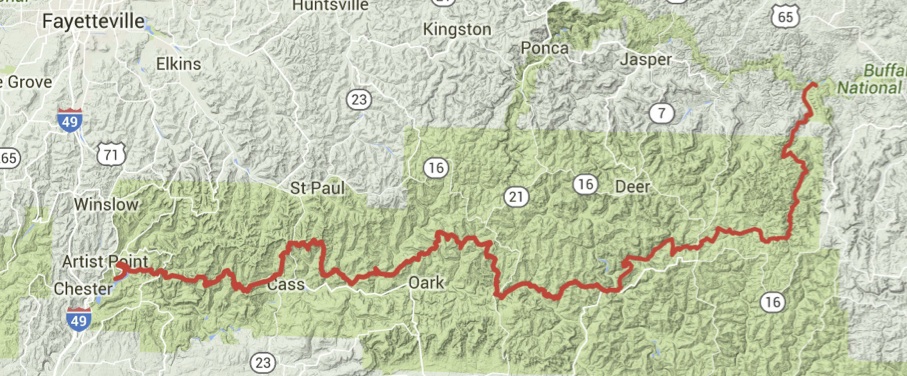 The Ozark Highlands Trail stretches across the Ozarks in Northern Arkansas. The trail runs for 164 miles from Lake Fort Smith State Park to Wollum on the Buffalo River. The Trail continues as part of the Buffalo River Trail for an additional 15 miles from Wollum to Tyler Bend. The Buffalo River Trail from Tyler Bend East and North to State Highway 14 at the Lower Buffalo Wilderness is mostly complete, but there is a 6-mile gap that has not been constructed. A GPS route will allow you to bushwhack through the Lower Buffalo Wilderness, although there is not an established trail or blazes. An additional 32 mile section known as the Sylamore Section has been built and blazed from Spring Creek Trailhead to Matney Trailhead. Additional trail has been built and is being built around Lake Norfork by other organizations. It is our hope that one day, all this trail will be joined with the Ozark Trail in Missouri, creating the Trans-Ozark trail, stretching all the way from Lake Fort Smith State Park to St. Louis, Missouri, creating a trail more than 700 miles long.

The trail is located almost exclusively on Ozark National Forest and Buffalo National River property, and travels through hardwood forest for most of its length. Located in Northern Arkansas, the trail is hikeable year-round, although June-August are generally hot, humid, buggy and overgrown. October and April are probably the best months of the year for enjoying the OHT, although hiking throughout the winter is generally available. We occasionally have ice and/or snow, but it generally only lasts for a few days and melts. This makes the OHT one of the premier hiking trails for winter hiking in the US.

Tim Ernst, the founder of the OHTA, builder of much of the trail, and outdoor photographer extraordinaire has published a guidebook to the OHT available at bookstores and at his website here. The OHTA has recently published a set of maps of the trail, produced by Underwood Geographics. The trail from Lake Fort Smith to Wollum has been mapped; and we are working on mapping those sections further East. These maps are available at local outdoor stores and on the Merchandise tab of this web site.

If you click on the map image above, it will take you to an interactive, Google map that shows the trail, spurs and loops connected to the trail, trailheads, and major features.

Average and high/low temperature information for Northern Arkansas can be found here.

If you are looking for information on folks who can help you set up your trip, click here.

The trail crosses numerous streams, creeks and rivers. Some of the more significant are Frog Bayou at mile 2.8 (from the beginning at Lake Fort Smith State Park), the Mulberry River at Mile 84.0, and Richland Creek at Wollum. Current river gage information for each can be found by clicking on the stream names. A pdf showing Frog Bayou at different river gage levels is available by clicking here.